News
EarthRover 1 and EarthMan 2, First publicly performed together as selected for the TEXAS BIENNIAL 2013
First Opening: Thursday, September 5, 2013, 6-9pm, Blue Star Contemporary Art Museum, San Antonio
EarthRover 1 Successfully Lands in Houston, Texas - August 6, 2012
(CNN) -- Dion Laurent's rover EarthRover 1 successfully carried out a highly challenging landing in Houston, Texas early Monday, transmitting images back to Earth after traveling hundreds of hours through Texas in order to explore the Blue and Green Planet.
The $2.6 thousand EarthRover 1 made its dramatic arrival on Houston terrain in a spectacle popularly known as the "seven minutes of terror".
This jaw-dropping landing process, involving a sky crane and the world's smallest supersonic parachute, allowed the trailer carrying EarthRover 1 to target the landing area that EarthMan 2 had meticulously chosen.
The mission control in Laurent's Earth Science Laboratory in Texas burst into cheers as the rover touched down. Team members hugged and high-fived one another as EarthRover 1 landed in Houston's First Ward, some shed tears.
EarthRover 1 is a hand-built solar powered electric vehicle, a rolling sculpture created from wood and metal, found and bought and fabricated parts. It has a fully articulated chassis that rolls on 6 wheels with a rocker-bogey suspension system. It features a terrarium oxygen supply system - a bio-regenerative life support system, and is manned by EarthMan 2. Their mission is to study the environment of Earth. EarthRover 1 is based on the NASA created Mars Rover, Curiosity, launched in November 2011 and successfully deployed on Mars on August 6, 2012.
SuperMarket Jesus, Dion Laurent, 1999 - 2012
Shown in the Art Car Museum Seventh Annual Open Call Exhibition, Houston, Texas
December 17, 2011 - March 2, 2012
George R. Brown Convention Center, Houston, TX
EarthMan 2 Performance, Texas Contemporary Art Fair, photo by FRANCISCO MONTES
State Air, Diverse Works - State Fair, Sept - Oct, 2011
September 9-October 29, 2011
Curated by Diane Barber
Opening reception: Friday, September 9, 2011, 6-9pm
Market days: Saturday, September 17, 12-6pm &
Saturday, October 22, 12-6pm

State Fair is a public spectacle that takes as its inspiration the construct of a contemporary art fair and merges it with the age-old tradition of street peddling. Organized to coincide Houston's first-ever public art fairs, The Houston Fine Art Fair in September and the Texas Contemporary in October, State Fair is an arts-centric trade show with a twist in which artists from around the state …
AirPlane 1 on Exhibit at the 1940 Air Terminal Museum, Houston, May - October, 2011
AirPlane 1 awarded 1st place in the 2011 Houston Art Car Parade
Dion Laurent has been selected for the 2011 Texas Biennial exhibition. The Texas Biennial exhibition dates are April 9th through May 14th, 2011.
Good Gulf
Art Car Museum, Houston, Texas
Sat. Oct. 23, 2010 from 7-10pm
through Jan. 14, 2011
Oil Drum -Terrarium Tree, Dion Laurent 2010
AirStation 1, AirPlane 1, EarthMan 2 Installation, Sculpture, Mixed, Performance Houston, Texas 2009-2010
June 19, 2010 - Dec. 2010, Houston, Texas
AirPlane 1 is on display as part of the site-specific installation, AirStation in the 1930's Art Deco Gas Station building directly across the road from the Station Museum of Contemporary Art, Houston, Texas.
It is a reflection to a world of ever increasing air pollution, ozone action days, water shortages, droughts and oil spills.

Conceptually, it's a self-contained, self-sustaining bio-environment; a one-room emergency AirStation supplied air as a greenhouse air station, creating a simple biosphere exchange system similar to that of Planet Earth.
AirStation is an ongoing project that will develop over the course of the next 6 months. Periodic modifications and improvements to the biosphere system and planned performances will be announced and documented on a monthly basis.

AirPlane1, awarded first place in the Houston Art Car Parade will be part of the installation, and EarthMan 2 will be publicly performing .

All 3 elements of this performance and installation blend art and science and relate to bioregenerative life support systems, self-sustaining systems conceptually capable of maintaining a human in otherwise unlivable environments on our increasingly polluted earth or even in outer space.

AirPlane1, awarded first place in the Houston Art Car Parade, May, 2010
AirPlane1, The World's First AirPlane
EarthMan, Enchanted Rock appears in the Environmental Art Calendar 2010 Edited by the Green Museum.
2010 ENVIRONMENTAL ART CALENDAR
Contemporary Art In The Natural World
AMBER LOTUS
Release Date: 01 July 2009
Format: Calendar
ISBN: 9781602372566
As one of the most exciting art movements of our time, environmental art celebrates our connection to the natural world through beauty, science, metaphor and ecological restoration. It encompasses a surprising landscape of approaches, from ephemeral "art in nature" sculpture designed to last only a few hours before returning to the earth, to community-based "eco-art" installations which clean up polluted watersheds and promote public understanding of local and global environmental issues.
The Environmental Art 2010 wall calendar features fifteen projects drawn from the global archives of greenmuseum.org, a not-for-profit online museum of environmental art. They provide a sampling of some of the latest developments in this field to stimulate the imagination and promote the role of art in the creation of a more sustainable world culture.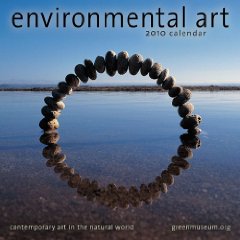 Amazon.com: Environmental Art 2010 Wall Calendar: Contemporary Art in the Natural World
Tower Books, Environmental Art 2010 Calendar, Contemporary Art in the Natural World
EarthBase 1 Installation and EarthMan Performances, Paris 2008
Espace des Blancs Monteaux (click)
48 rue Vielle du Temple, Paris 75004
du 4 au 20 juillet
de 12h à 21 h,2008
EarthMan Performances : Art Chicago, Next, Version Fest Chicago, April 2008
FOTOFEST 2008
Art Car Museum, Andy Mann Memorial Gallery
EarthMan Video Loop, 7 March - 20 April
EarthMan Gives a Flower to Paris Hilton at the Atrium during a performance at Art Basel Miami Beach, Dec. 2007
Paris Hilton, paris hilton, paris hilton, paris hilton, paris hilton, paris hilton
earthman performance Art Basel 2007 vernissage switzerland
Museum of Contemporary Art, Shanghai Dec. 14 - Jan. 19 2008 Group
Guardain Garden Gallery, Tokyo Group Show 26 Nov. to Dec. 22, 2007
Select Media Festival, Chicago Nov. 2007
YouTube - EarthMan in Chicago
EarthMan on the cover of Seattle's The Stranger
EarthMan in Seattle, a Stranger Video
Falling Soldiers, Rising Sons, Dion Laurent 2007
Art Car Museum, Houston WAR
A group exhibition. Opens Sept. 8
EarthMan Performance at Art Basel Vernissage
Galerie du Tir, Geneva 6 Juin au 6 Julillet 2007 Installation: Earth Base 1
EarthMan in London - Video on Green.tv
EarthMan Prepares to Summit Mont Blanc May 19, 2007
FlashBack
2003 Shelter Project(Houston) 2005 AirPort and EarthMan(S.F./Oakland)
EarthMan Performs in Monaco April 11, 2007
photo by Thomas Rohrbach
EarthBase 1, March 2007
Montreux, Suisse
EarthMan Performance, Montreux, Switzerland March 2007
Grande première à l'Art Forum de Montreux
DIWO Group Exhibition at HTTP Gallery, London : http://www.http.uk.net
1st March- 1st April
EarthMan on Enchanted Rock, Wired Magazine Photo Shoot
Photograph by Matthew Mahon MATTHEW MAHON
Detroit's 10th Int'l Film & Video Festival
March 9 through March 31, 2007 at the Museum of New Art (MONA)
EarthMan and 3 other videos by Dion Laurent
A DVD Video Release, Coming Soon
2006
Guardian Garden Gallery, Tokyo
Group Show October 2006
Sept. 9 - 28, 2006 Beijing New Art Projects
Contemporary Art Center, Massachusetts
EarthMan premiered in Video Cocktail
David Lachman, Curator
Art Car Museum, Houston, Calacas
A group exhibition. Opens Sept. 10
EarthMan 224 Photo Courtesy of The Orange Show - Arnold Franco 2006
EarthMan awarded Two Trophies at The Houston Art Car Parade
The Art Car Parade , May 13, Houston. Earthman performs in the Art Car Parade riding a Segway HT provided by Segway of Houston - Matt Creede (713)807-0800. EarthMan will hand out 10,000 Texas Wildflowers from Dion's Lonestar Studio pastures, Bastrop County, Texas
Thailand New Media Arts Festival, Bangkok
MANASTRE KISA FİLM GÜNLERİ , Istanbul, Turkey, Curated by Dayshülya Küpçüoðlu 6 may 14 may 2006
EarthMan
EarthMan Performances at select events without prior notice throughout 2006-2007.
FILE RIO 2006 Rio March 20th to April 20th 2006.Centro Cultural Telemar
Rua Dois de Dezembro, 63 - Flamengo - Rio de Janeiro
2005
WebBiennial.org Closing Events: Presentation in Athens, Concert
in Vancouver and Live Streaming from Istanbul 5-21 December 2005
Guardian Garden Gallery, Tokyo November, Group, touring to multiple venues in Tokyo
The Golden Age of Barcodes is selected for F I L E 2005 ( ELECTRONIC LANGUAGE INTERNATIONAL FESTIVAL) SESI Gallery, Sao Paulo, Brazil October 31st to November 20th, 2005
International Compendium Ars Electronica 2005 http://www.aec.at/en/index.asp
EarthMan Performance at The Art Car Museum, Oct. 15, 2005 Performance
Robert Miller Gallery, NY, NY Visual AIDS - Postcards From The Edge Benefit
October: El Dorado Ballroom, Houston Project Storm: Katrina - Red Cross Benefit
Institute for New Media, Frankfurt, Germany FIELD OF VISION: EXTREMES
September: Playhouse Theatre, Newcastle, NSW, Australia The Golden Age of Barcodes
screened as part of Thailand MAF05 Selections for the Electrofringe New Media Festival
The week of August 22-28:
A suggested nominee for
The Detroit Museum of New Art
you're so 21st century
the search for the greatest living artist
Greatest Living Artist
Bayennale 2005 AirPort and EarthMan Photos(click)
Bayennale Closing Parting at the Container Hub Installations next to Jack London's Cabin in Jack London Square, Oakland
Sunday August 7, 2005 4:00 - 9:00 PM
Bayennale
Oakland - San Francisco
Installation in a shipping container
July 22 - August 7
Bayennale
Face
Art Car Museum , Houston, Texas
Opening: Saturday, July 2, 2005
7 - 10 pm, music and refreshments
"Obsession" International Audio-Video Art Festival
Festival Website
Istanbul, Turkey 2-8 June, 2005
Istanbul Contemporary Art Museum, iS.CaM, presents: Web Biennial 2005
WB05 - Web Biennial 2005 - The Biennial on the World Wide Web
Galerie du Tir
(Dion with Blanche Benbassat)
Flower Power
Genève,Switzerland
April 26 - June 2, 2005
au vernissage, April 28
de 18 h 30 à 21 heures
Galerie du Tir - Genève

Montreux Art Forum, Switzerland
April 6-10, 2005
Art Forum Montreux
Awarded "Première Mention du Jury" Lauréate
Thailand New Media Arts Festival 2005 (MAF05)
::INTIMACY :: DIGITAL SKIN::
25-28 February 2005 Bangkok, Thailand
main event: 24-28 June 2005 Bangkok, Thailand
Thailand New Media Art Festival 2005

An Open Proposal:
Another Barcode Series by Dion Laurent
"Barcodes of Life"
A project to Barcode all the World's Life Forms
An ongoing series (1992-2005+)
An open proposal to the Museum of Natural History, London, The Smithsonian Institute, Washington, D.C., etc. and so on as further image and data sources for the barcoding of all the world's life forms in image and numeric forms using Dion Laurent's barcode image software. This project is a variant of "The Golden Age of Barcodes" and "The Barcode Series", "Made In (Flags) and "Sex Sells", "One Billion", etc., in consideration of The Barcodes of Life Initiative and the International Conference for the Barcoding of Life. This is an open call for assistance to procure images of all the world's specimens to visually barcode their forms in conjunction with and to coincide with the scientific communities' desire to profile species DNA data with barcodes. This project is to profile such scientific data in an identifiable barcode image form with relevant barcode number identification and color codes as for each identifiable specimen.
Detroit museum of new art [mona]
Third International Film & Video Festival
from January 15 to February 24, 2005
Guardian Garden Gallery Ginza,Tokyo
Group Show, Jan. 11 - Feb. 04, 2005
2004
Dion Laurent and Jim Harithas (Director of Station and Art Car Museum)
Friday, November 19th 2004, 8 - 10 PM
Gala Opening and Artists Reception
The Art Car Museum, Houston, Texas
Through Feb. 2005
September 2004
The Art Car Museum, Houston, Texas
A selection by Jim Harithas of oil paintings from The Travel Series
August 2004
Furtherfield.org Net Art Exhibit update
July 2004
The Golden Age of Barcodes is accepted for inclusion in the Rhizome.org Art Base at The New Museum, N.Y.,N.Y..
Dion Laurent on Rhizome

Group Exhibit,Take Away Art, Kulturmodell, Passau, Germany
Showing The Golden Age of Barcodes DVD version
Feb. 2004
Completion of "The Pipeline Project" Video. A video and installation project in progress.
January 2004
Final Edit of the 1996-2004 Video, "In One Second". Shot on Yaku Island, Japan in 1995-1996. The original edit was destroyed in 1997.
2003
December 2003
International Invitational
Florence Bienniale with David Hockney photo: Brent Hallard 2003
Guardian Garden Gallery, Ginza, Tokyo
Group Show
November 26 - December 25, 2003
BAMBOO
An Installation
October 16 - October 26, 2003
112 Second Avenue North, Top Floor
Nashville, Tennessee
September 2003
furtherfield review - The Shelter Project
A review of "The Shelter Project" installation by a London based internet art extravaganza...
Links
To Whomever posted us here, "Thank You"
July - October 2003
Road-trip from Houston to Nashville and Chicago
Bamboo Installation Begins in Nashville...Opens October 16, 2003
Breaking Ground on "The Pipeline Project" (A video and installation project in-progress)
Feb - July 2003
Poissant Gallery, Houston
Click link above for more images
Click here Shelter Project for the faster page
February 14, 2003
"Peace Walk"
Valentine's Day 2003
Jeddo,Texas
FOR INFORMATION AND DOCUMENTATION OF EXHIBITS AND PROJECTS FROM 1988-2003, PLEASE SEE BIOGRAPHY
earthman, earthman, earth man earthman earth-man earthman, earthman project, earthman art
All text, images and web pages at Dion Laurent.com are Copyright Dion Laurent 1990-2008. Use of any images without prior written consent of Dion Laurent is expressly prohibited. All rights reserved.